How many Types of Bunk Beds are in Dubai in 2022?
There are many types of Bunk Beds. A bunk bed is a type of bed in which one-bed frame is stacked on top of another. This design allows two beds to fit into the space that would normally only accommodate one. They are most commonly found on ships, in military barracks and dormitories, in summer camps, and in children's bedrooms. You may even see one in a prison.
Types of Bunk Beds
What is Loft Beds
A loft bed is an excellent option for a small space. These beds have a large, open space underneath, which can be used for storage or a workstation. You can buy loft beds with different types of features, which will help you make the most of your space. If you're thinking about buying one, you should make sure you look at all the features before making your purchase.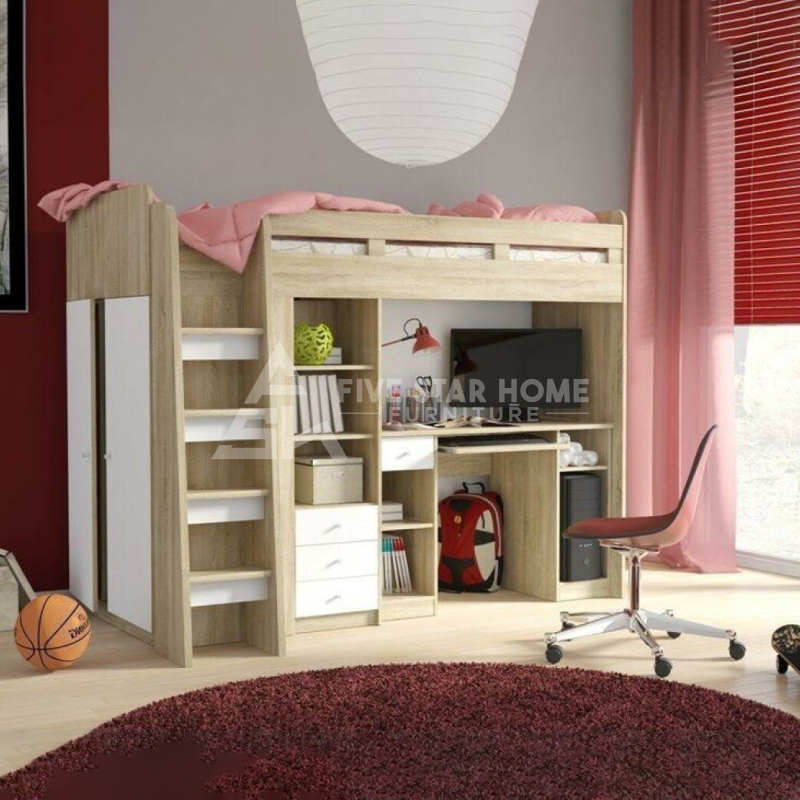 Loft beds are great for children and adults alike. Some include built-in storage and a slide or other activity area. Kids will enjoy the fact that they have a place to play and study. They can also use the space underneath the bed as a homework area. Some even have curtains that can be used to create a private hideout or fortress.
From the types of bunk beds, a loft bed can be a stylish and functional addition to any room. A loft bed can make the room appear spacious and light. This type of bed can be carved into the eaves of a small house, or it can be a simple platform bed. Loft beds can come in a variety of shapes and sizes, and can also be customized to fit your space.
Loft beds can come with storage space beneath the bed or can be freestanding. You can also add a desk and additional furniture to this space. Loft beds are great for children because they provide them with additional floor space. Loft beds come in different sizes and heights, so you can find a size that suits your child's needs.
Loft beds make excellent use of space and are an excellent choice for a dorm room or a school-aged child's room. You can also use the loft space as a study area, sitting area, or entertainment center. You can find commercial loft bed furniture sets in various stores, but building a custom one is one of the most fun and rewarding DIY projects.
A loft bed can be constructed from wood, metal, or a combination of both. Wooden loft beds are less durable than metal ones and will need more maintenance. They're also heavy and difficult to move around, and they'll tend to squeak or creak over time. Wooden loft beds tend to creak if the joints become loose or weak.
A loft bed may not be the best choice for your child. Depending on your child's age, you'll need to consider the size of your child's room and how many children you have. Generally, a child should not sleep on the top bunk unless they are at least six years old.
Loft bunk beds
Although loft bunk beds are a great option for young children, they aren't without dangers. Several accidents occur every year involving children who use these beds, most of them preventable. The main danger of these beds is that children can fall from the top bunk, causing serious injury. A guardrail on a loft bed is important to prevent an accidental fall. It should extend at least 13 cm above the mattress and have a maximum width of 37 cm.
Parents should carefully evaluate the space required for a bunk bed. If you have only two children, a twin bunk bed might be just what you need. If you have more than two kids, a full over full may be the right choice. As your children grow, their preferences will change and they may outgrow the current bed. Therefore, you should consider purchasing a transitional Loft bunk bed that will grow with your children.
New designs of bunk beds provide additional storage space. They can be placed underneath the bottom bed or built into the side of the bed. Some come with a ladder for easy access.
Standard over full bunk beds
From the types of bunk beds, standard over full bunk beds has a unique design that makes them appealing to both children and adults. These beds are identically sized, with twin beds positioned parallel to one another, and feature slim, white shelves and drawers under each bed. The standard over full style also comes in a variety of colors, including black and white.
The type of bunk bed you select should depend on the number of children you plan to sleep with. Some children will only use the top bunk, while others may want an extra space underneath the bed for school work or other needs. If you're buying for a child, you'll want to consider whether the child will use both bunk beds on a daily basis or only use the top bunk occasionally.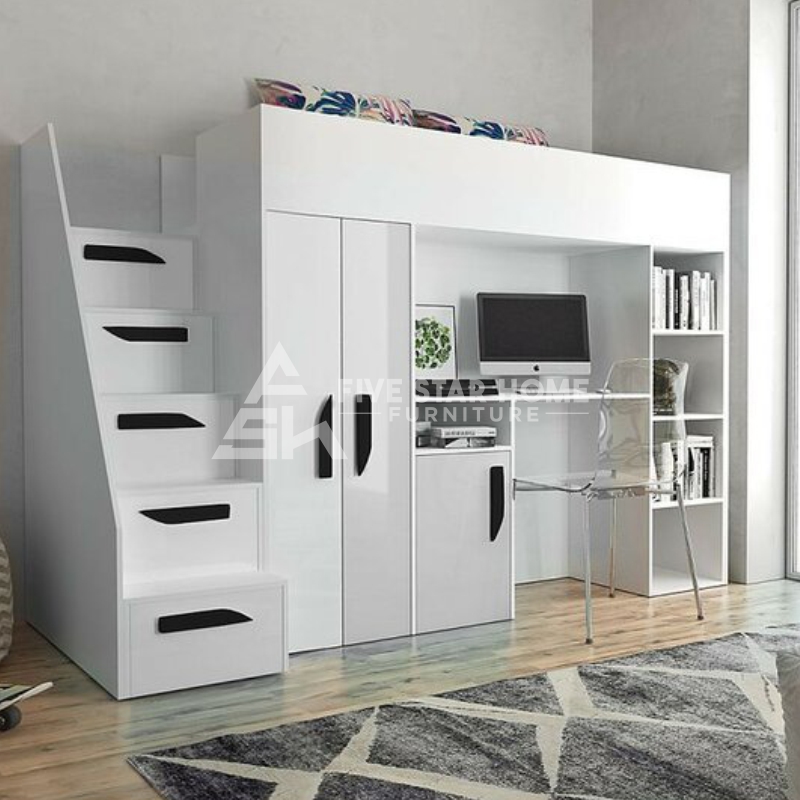 There are a few important safety features to keep in mind when choosing standard over full bunk beds. First, you should know that the top of the upper bunk must be at least five inches higher than the lower bunk. Additionally, the bed must have a margin of safety of at least half the distance between the corner posts. Also, the lower bunk should not have any openings larger than the width of a rigid 22 cm sphere.
Twin over Twin bunk beds
From the types of bunk beds, the Twin over Twin bunk beds Dubai is a great way to save space in a kid's room. It features plenty of storage space and a natural finish. It can even be converted into two separate beds as children grow. The bed comes with safety guard rails on the top and bottom for added safety.
While the most common type of Twin over Twin bunk bed features a ladder off the footboard, other options include stairs with handrails and a pullout hardwood dresser drawer. When shopping for a Twin over Twin bunk bed, consider how many people will be sleeping in the room and the size of each bed.
For more storage space, you can buy a twin over-twin bunk bed that has under-bed storage drawers for additional storage space. Alternatively, you can get a convertible twin wooden bunk that also has a trundle. These beds are very durable and look great in any room. They can also be used as a playroom by adding a trundle or slide.
Full-over full bunk beds
From the types of bunk beds, a full over full bunk bed has a full-size bed stacked on top of a smaller, single bed. This configuration is perfect for saving space because it allows for the function of two full-sized beds while taking up less space than one single bed. Full over-full bunk beds are typically made of poplar and feature oversize bed rails and corner posts. Hidden structural screws keep the full-sized bed in place. They are available in many colors, including white and dark cherry.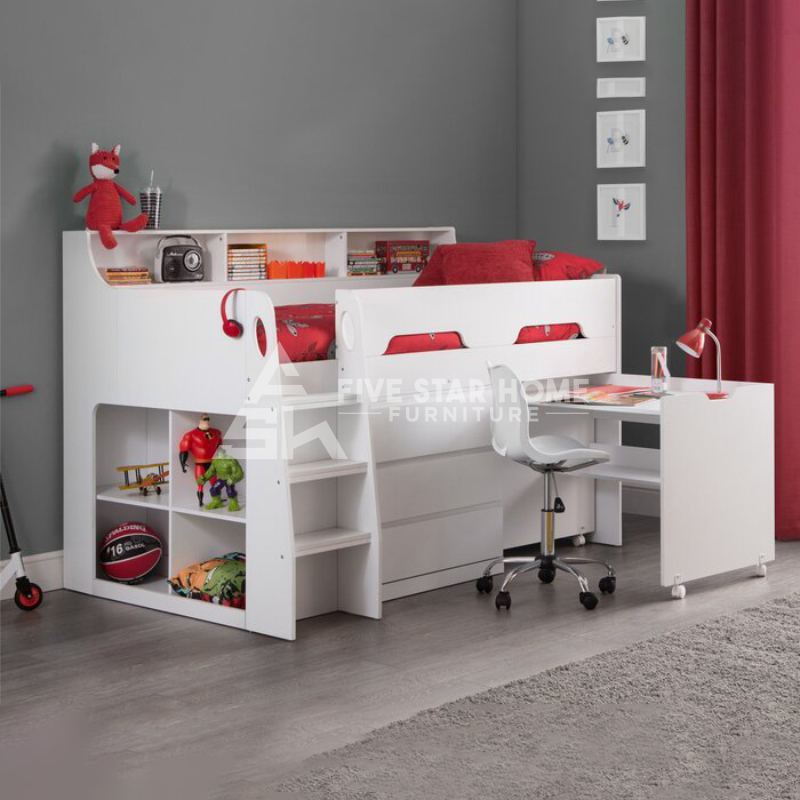 This type of bunk bed has a built-in desk, which can serve as a study area or dressing table. It features a nice height, which allows a standard computer chair to fit comfortably. It can also make a great setup for movie nights, especially when a sheet is draped over the top bunk. This type of desk also comes in many different colors. A green desk is a fun choice because it matches potted plants in a room.
Full over full bunk beds can be made from solid wood. They are durable and feature side rails and guard rails. They are available in two paint finishes and are a good choice for a teenager's room. For extra storage, you can also add side shelves. If you don't want to put up a ladder to get to the top bunk, try getting a handyman to install the hardware.
Futon bunk beds
From the types of bunk beds, futon bunk beds are a great way to maximize space without compromising on the comfort of your bed. The sleek design of this type of bed includes a full-length guard rail and a stylish, glossy black finish. The full-length rail supports the twin mattress and the bed itself slides out of the way to create extra sleeping space.
This type of bed is a space-saving solution for homes with multiple children. The futon can easily be pulled out of the bed when not in use, making it ideal for sleepovers and sick children. Additionally, these beds save on floor space, which is a great plus when your child has a sleepover.
A durable steel frame ensures a long lifespan for this type of bed. A twin-size futon can withstand up to 250 pounds of weight. The full-size futon bunk bed can hold up to 300 pounds of weight. This model also comes with a full-length guardrail and a sturdy ladder for safety. It is a good idea to consult a manufacturer before making a purchase to make sure you get one that will meet your needs.
Some of these beds have a trundle or a desk on the lower level. You should also consider the height of the bunks and the space between them. Futon bunk beds are especially useful for smaller spaces.
Wooden bunk beds
Wooden bunk beds are great for a variety of reasons. They offer the safety of full-length guardrails and integrated ladders. They are also easy to assemble and come in a variety of colors. At BJ's Wholesale Club, you can find a wide selection of quality wooden bunk beds.
From the types of bunk beds, solid wooden bunk beds have a simple but effective design that will last for years. They are usually constructed of solid wood, with a warm tone finish. Many of these beds have additional storage areas, including drawers on the stairs. Solid wood bunk beds are a great option for a boy's room. It allows one child to sleep in the lower bunk and another child can sleep on the upper level. Many solid wood bunk beds feature a ladder that leads up to the upper bed.
Wooden bunk beds can be refinished by sanding or painting them. Refinishing wooden bunk beds is relatively simple – you just need to clean them and apply a new coat of paint. If you're not confident enough to do this yourself, you can use an etching primer. This primer cures in four hours, so you won't need to worry about damaging the wood when you repaint.
Metal bunk beds
Metal bunk beds are built from steel tubes, metal rods, and wrought iron. The most common type of metal bunk bed is the tubular design. These beds are lighter in weight than wood-framed models. Additionally, quality metal products are coated with a powder-coat finish for improved resistance to damage. This means they will last longer.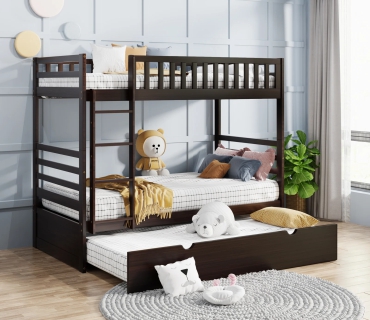 From the types of bunk beds, Most metal bunk beds are made with hollow metal tubes that make them lightweight and easier to manufacture. However, this design compromises the structural integrity of the bed, especially when kids grow and gain weight. In addition, hollow metal frames may become warped, which can result in a weakened bed. Lastly, cheap metal frames may have holes in them.
To avoid these problems, check the metal and welds on your bunk beds. If they are cracked or broken, you should contact the importer or retailer. A warranty agent should be able to offer you repair instructions or a replacement bed. Additionally, consumers should check the eight mattress support fin tabs located at the eight corners of each bed.
Metal bunk beds are also included in types of bunk beds easier to install than wood-framed ones. They can support more weight than their wood-based counterparts. Furthermore, they are more affordable than wood-framed versions.