Choosing a Bunk Bed or Loft Bed in Dubai
A Bunk Bed is a type of bed that consists of two-bed frames that are placed one on top of the other. They are commonly used in dormitories, summer camps, and ships, and are also popular in children's rooms. However, the concept of bunk beds is not new. They have been used for centuries and are even used in prisons.
Standard bunk bed
A standard bunk bed should have enough headspace to sleep two to three adults comfortably. Despite its simple appearance, the Standard bunk beds is far from a plain piece of furniture. Solid wood and steel framing combine to create a sturdy and durable piece of furniture. It comes with a built-in stairway, side rails, and two base drawers. The full-on version is available in a variety of paint finishes and is available in a twin, double, or king size. Side shelves provide extra display space and allow you to charge your gadgets and electronic devices while lying on the bed.
If you're buying a standard twin over a twin bunk, make sure to check the measurements. Standard twin beds are 40 inches wide by 77 inches long. This includes the frame, mattress, and headboard. A full-size bed measures 83 inches long by 63 inches tall. A Queen-sized bed is available in a few different styles but is rare in most cases.
Standard bunk bed frames usually fit a twin mattress. The top bunk has a raised edge, which prevents people from falling out. The raised edge is usually eight inches tall, and it can extend two to four inches past the mattress. However, be aware that a safety rail might obstruct the height of the mattress.
Twin over full bunk bed
A twin over full bunk bed can be an excellent option for a budget-conscious parent. They are cute and functional and have plenty of space for one sleeper. This style is also known for its two built-in drawers at the bottom. These drawers can store clothes, toys, and school supplies.
A Twin over full bunk bed can be made from many different materials. Some are made of solid wood or poplar wood. Another type is made from engineered wood. Both types of materials are sturdy and durable. Many of them are also made of Greenguard Gold certified materials that have been tested to ensure they are safe.
Another benefit of a twin over a full bunk bed is that it is ideal for children who share a room. This style allows parents to use the floor space for furniture or play areas. The additional space is also useful when you want to create an open floor plan. If you have a child who is older than the other, you can choose a twin over a full loft bed that is longer than your child's current height. Twin-over full bunk beds are often more expensive than other types of beds. The trundle in some models requires an additional purchase. In some models, a trundle is a separate unit, and you have to purchase a mattress separately. This adds to the cost of a twin over a full bunk bed, as it requires an extra mattress.
Twin XL bunk bed
A Twin XL bunk bed is a great option for teens and adults who need extra space. It saves space on the floor and offers enough length for taller people. These beds are also perfect for vacation rentals or dorm rooms. They are made with high-quality American aluminum and can support up to 2,000 pounds per bunk. You can find them in several finishes to suit your needs.
A Twin XL bunk bed can come in a variety of different configurations. Most of them are one full and one twin, which are popular if you have younger children. These beds are often equipped with front guardrails to prevent accidents, especially if your kids are toddlers. Some of these beds can even be customized with side ladders or stair-step entries. A Twin XL Loft bed Dubai is great for teens and young adults who are growing up. The mattress on these beds measures about 80 inches long and 38 inches wide. They fit on both the top and bottom bunk and are perfect for small rooms. You can also choose an extra-long trundle if you plan on sleeping with someone else.
Narrow or 3-ft mattress bunk bed
The size of your bunk bed is a key factor when choosing the right design. You can select a narrow or a wider model. Narrow mattresses are suitable for kids, while a three-foot-long model is perfect for adults. They offer more legroom and more overhead clearance. You can also sit up straight on the top bunk. However, you should be aware that the mattress of a narrow model is typically thin and will not cushion your spine or relieve pressure points. It will also be a bit more difficult to keep up with the weight of an adult and might break easily.
When shopping for a mattress, make sure to check the manufacturer's guarantee. Some manufacturers will say that their mattress is universally comfortable, but this is not always the case. In addition, some brands may boast about the durability of their products and their 3-year warranty like FSH furniture stores in Dubai. You should also choose a mattress that has a weight limit of at least 200 pounds to prevent accidents and ensure longevity. The size of a mattress will also determine the type of bunk bed you choose. A standard twin mattress measures approximately 75 inches long and 38 inches wide. You will need a room that is at least nine feet by 10 feet to fit a full-sized mattress.
Sizes of a 3-ft mattress bunk bed
Bunk beds come in a variety of sizes. Choosing the correct size depends on where you intend to put the bed. A good rule of thumb is to leave at least two feet of space between the bottom bunk and the ceiling. The larger the room is, the larger the mattress can be, while a smaller room will probably need smaller mattresses. You should also allow for a few inches of manufacturing wiggle room.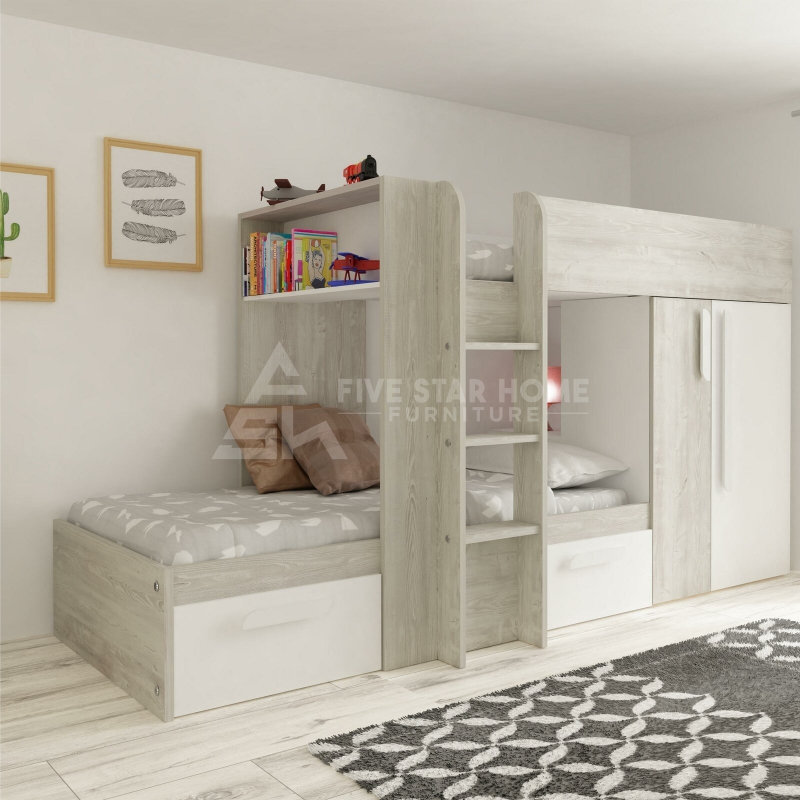 Bunk bed mattress sizes may vary depending on how many people will be sleeping on the bed. You can find one that fits three to four children in a room, or you can find a bed that is designed for two. A three-ft mattress bunk bed in Dubai is typically 36 inches wide, 75 inches deep, and sixty inches long. A twin extra long mattress bunk bed is 39 inches wide and 80 inches long. Expanded Queen mattresses are 66 inches taller than twin-size mattresses. California King and Grand King mattresses are 80 inches long and 65 inches wide.
Full-size mattresses are available for three-foot-wide bunk beds. A full-sized mattress is 54 inches wide and 75 inches long, and will comfortably sleep two adults. These beds are ideal for kids who grow into teenagers or for guest rooms.
Dimensions of a 120 in. x 84 in. x 96 in. room
You will need about 70 square feet of floor space for a 120 in. x 84-inch x 96-inch bunk bedroom. If you are placing a bench at one end of the bed, you should add the length of the bench to the length of the bed.
Related Article