How to choose the End Tables
Choosing the right end tables does not have to be a hassle. Just follow some basic guidelines when choosing one. If you want it to be functional, try matching it to your main piece of furniture, and be sure to choose a table with a wider surface area. If you plan to place a lamp on it, be sure to choose a table with a lamp holder.
Side tables
Side tables are versatile pieces of furniture that can fit in any room of the house. They can be made from wood, stone, concrete, or plaster. Using marble, for example, can give your room an elegant and luxurious feel. Another popular choice is wood. This material is both beautiful and durable, perfect for any style. When choosing side tables, you want to keep a few things in mind. Firstly, you want to make sure the table will fit in with the rest of the furniture in the room. You don't want it to be too tall or too wide, because that will look awkward and will overwhelm the room. Secondly, you'll want to consider the size of the table and whether it has enough storage.
While end tables are often viewed as living room side furniture, their versatility makes them perfect for other rooms, too. For example, if you have a small living room, a side table will free up space that would otherwise be taken up by a chair. You can also use a side table as a work surface. Side tables can also be made from glass, which can add a glamorous touch to a room. Likewise, modern-style end tables are perfect for tying together a modern home. Finally, nesting tables are another option, which provides ample table space and can be stored when not in use. You can find nesting tables in many different designs, and some of them can even serve as serving carts.
C-shaped end tables
C-shaped end tables offer a versatile surface and are ideal for keeping favorite objects close at hand. They offer a modern look to any living room and are often made with a clean, chrome-finished metal base and manufactured wood surface. They also have padded feet to ensure stability. They come in a variety of finishes and can be easily assembled. The main tabletop of a tiered end table usually has a tray. The trays are either removable or fixed. These tables are great for small spaces and are easy to clean. They are also available in many different materials, so choosing the right one is important. If you plan to place the end table in a high-traffic area, you will want to choose a material that can stand up to wear and tear.
A C-shaped end table is a perfect piece for a living room or foyer. Its compact design makes it easy to move around and can be used for multiple functions. It's also great for displaying photos of family members. You can also use it as a TV tray. Its square steel tubing frame provides stability and durability. End tables come in many shapes and styles. They can be placed near sofas and accent chairs. They can even serve as a coffee table! Some even have storage compartments so you can store books and magazines.
Mirrored end tables
The sleek look of a mirrored end table is a stylish way to update a traditional piece of furniture. Its shiny mirror surface and contemporary wood frame combine to create a unique look. This type of table is compact and ideal for smaller spaces. Adding a beveled mirror tile inlay to the apron and legs can make it even more striking. A matte silver finish balances the shimmer of the mirrored tabletop. A mirrored end table can be purchased at a discount price from an online retailer. For example, you can get a mirror for only $30 from a Swedish retailer. You can then paint it with glass paint to give it a unique look. This technique was featured on a Swedish retailer's DIY website and Hej Magazine.
There are several styles of mirrored end tables available, which vary in price according to their characteristics. One example is an art deco mirrored end table. You can find art deco mirrored end tables on 1stDibs for as low as $1,000, but the most expensive one goes for nearly $45,000! These stylish tables can help you to organize your living room and showcase decorative objects. The term "end table" is often used synonymously with "coffee table." Regardless of what is known as end tables have many advantages. A mirrored end table can make a room look spacious and add glamor to an otherwise boring room. It bounces light all around, making the room feel brighter and larger. A mirrored table looks great with a white ceiling and a glass chandelier.
Tray top-end tables
Tray top-end tables are versatile and stylish tables that can enhance any type of furniture. They are ideal for a variety of uses and are available in both traditional and rustic styles. Their compact size makes them ideal for use as a corner table, nightstand, or accent table. They also look great paired with different types of lighting fixtures. Tray top-end tables are perfect for homes with modern interiors. Their design is versatile and easy to clean. This table type also offers a lot of extra table space and is beautiful and functional to look at. A tray-top table can be the perfect way to add a unique touch to your living room.
Transitional style end tables
Transitional-style end tables are a great option for a variety of rooms. These tables are designed to blend traditional and contemporary elements to create an organic look. They can have a variety of storage options and space-saving features. They can also vary in height, depending on how high your couch is. Generally, transitional tables are about one or two inches shorter than the arm height of your sofa. The lines of these tables are sleek and simple. They feature solid mahogany on the "C"-shaped legs and a center field of Crotch Mahogany. Many of these tables also feature contrasting woods, such as Santos Rosewood and Satinwood. They are also available in custom fabrics.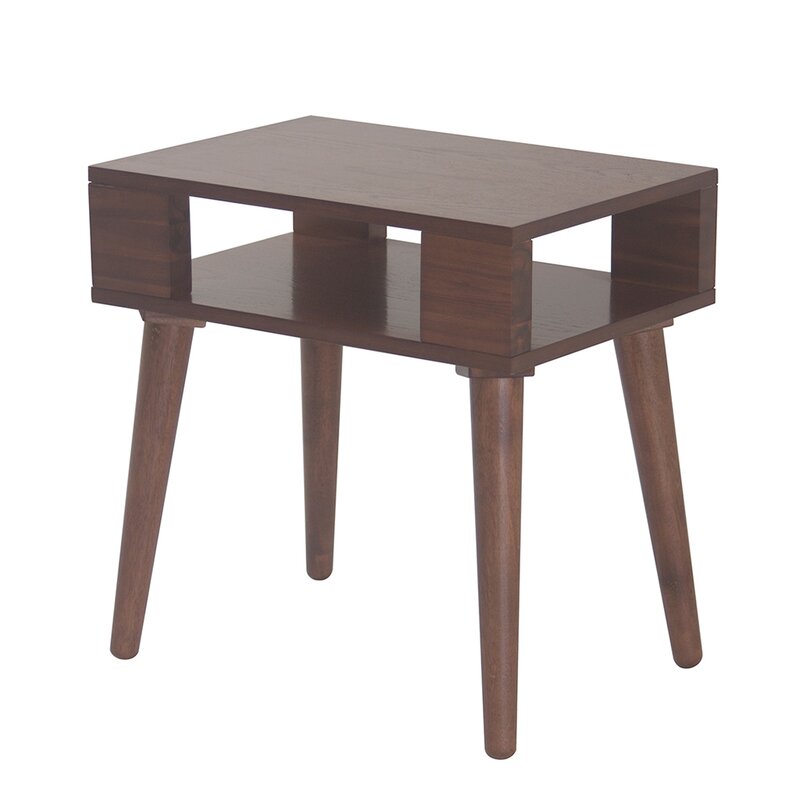 Transitional style end tables are made to mix traditional and contemporary styles, combining masculine and feminine elements. Transitional furniture usually features neutral tones but can incorporate colorful accents and subtle prints. They can also be made from different materials, like metal or wood. Some transitional tables are made from distressed wood, which adds a unique rustic or industrial feel. Transitional style end tables can be either round, rectangular, or square, and they come in a variety of styles. The height of the table is another important consideration, as are its size and l shape. If you have a narrow space, consider nesting end tables. They are perfect for small rooms since they can be tucked inside one another. Alternatively, you can purchase standard end tables for use beside a couch.
Mid-century modern end tables
Mid-century modern end tables are a classic addition to your family room or living parlor. They are highly customizable and are available in many wood species, including solid natural cherry, walnut, maple, and oak. They are also built with sustainable sourcing practices, so you can rest assured that they will last for generations. Vintage mid-century modern end tables are great for storing and displaying important items in an attractive, but functional way. They have the perfect height for convenient access. They also are functional pieces of furniture that can be placed in the middle of a lounge chair. You can also add mobile bar carts for easy entertaining and serving.
Mid-century modern end tables can be found at a variety of retailers. At West elm, you can find a variety of mid-century side tables, coffee tables, and dressers. The site also sells unique home accessories like wall art and decorative objects. It is important to note that not all mid-century modern end tables are created equal. End tables can be found in many colors and shapes. They are versatile pieces that can hold a variety of items, from books and snacks to the remote control. They can also be used as stools, footrests, or even makeshift coffee tables. These end tables can be made of wood or stainless steel and can add a stylish touch to your living room. These tables are also a good choice for holding wedding pictures or other mementos.